Unless action is taken, 240 children will die everyday, the United Nations children's agency says
By May Bulman @maybulman, www.independent.co.uk, Wednesday 25 January 2017 18:38 GMT
Tens of thousands of children are at risk of starving to death in Nigeria unless the world takes action, the United Nations children's agency has warned.  
Labelling it the world's most under-funded humanitarian crisis, Unicef said the terrorist insurgency of Boko Haram has left 400,000 children severely malnourished and millions more in desperate need of humanitarian assistance after they fled their homes. 
The agency warned that 90,000 children could die of Severe Acute Malnutrition in the coming year unless the international community takes swift action. That amounts to more than 240 child deaths each day. 
Doune Porter, Unicef's chief of communications in the west African nation, told The Independent that despite attempts to raise global awareness of the crisis in November, the number of children at risk of starving to death has increased further.
Forecasting a "tragedy" if the rest of the world continues to turn its back, she said: "Three months ago we estimated that over the year in the three states most effected by conflict – Borno Yobe and Adamawa — 400,000 would suffer from Severe Acute Malnutrition. This projection has now increased to 450,000.
"We continue to be hampered by a lack of funds and by access security in the region. There are a lot of children who we can't reach because of insecurity and attacks in certain areas.
"If the situation continues where we can't reach people or we do not have enough funding, we estimate that one in five of these children — 90,000 of them — are expected to die in the coming year."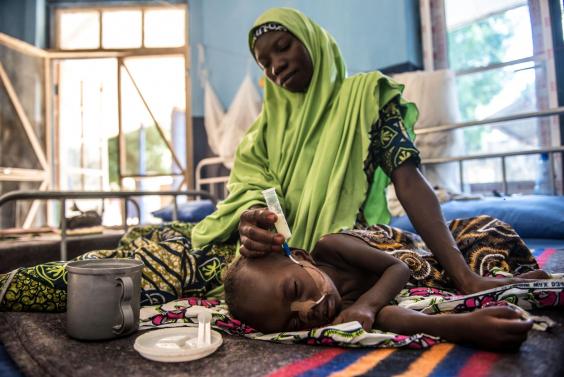 The conflict in North-eastern Nigeria has led 1.7 million people to flee their homes to live in other communities or refugee camps within Nigeria as well as neighbouring Chad, Niger and Cameroon. 
Unable now to generate an income to support their families, trade has been limited and food prices have escalated as a result.
Displaced people in the worst-affected areas of Borno, Yobe and Adamawa have been unable to farm and are now suffering from a severe food crisis. 
In total, 15 million people have been affected, with seven million people in need of urgent life-saving assistance — more than half of them children. 
"Acute malnutrition is an extremely dangerous condition for children. It's clinging to life. It makes them nine times more likely to die from an ordinary illness such as pneumonia and diarrhea," said Ms Porter. "In this crisis there are children starving to death. And we can't reach these children if we don't have the funding. So few people know about the depth of this crisis.
She added: "We're scaling up the efforts. But this is a crisis that is so big that we really need the world to mobilise around the children of north-east Nigeria. If we don't get the funding, then we cannot reach the children whose lives we could save. And that's a tragedy."
Mike Sunderland, Save the Children's West and Central Africa's media manager, has been working with malnourished children in Nigeria and warned that as well as the children being treated, there are thousands more that haven't yet been reached.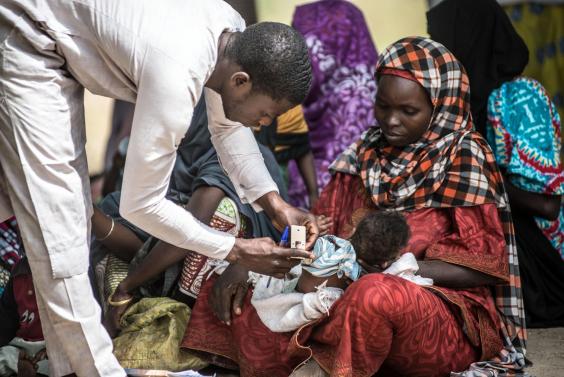 Mr Sunderland told The Independent: "We're seeing a lot of widespread malnutrition of children, children with missing parents. Around a million children have been moved from their homes. This is a widespread humanitarian crisis.
"Everyone you meet has got some sort of distressing story. Most of them their villages have been raided by insurgents, some of them may have lost homes or wives may have lost partners or lost parents." 
He added: "For many children, it might be the second or third time they've fought malnutrition, so their immune systems are already severely weakened by malnutrition. They're entering a cycle of continuous illness and threat of death.
"These children are the lucky ones who have reached help. If that's the case for them, we can only image the ones who are out of our reach."
The crisis "is grossly under-funded," he said, adding: "We need a humanitarian response that is well-funded, and that will allow people involved in this crisis to save as many children as possible."
Boko Haram has been on a violent campaign since 2009 to impose their version of Islamic law in Africa's most populous country, and has so far killed more than 20,000 people and forced an estimated 2.6 million from their homes.
The conflict has been characterised by systematic, widespread violation of children's rights, with abductions and sexual abuse and the forced recruitment into militias commonplace.
As the Nigerian army continues its advance into insurgent strongholds in areas bordering Niger, Chad and Cameroon, many children have — as well suffering a shortage of food — witnessed atrocities first-hand, or have themselves been subject to attacks.
---
In this interview with Dr. Chetachi Nwoga-Ecton, Founder and CEO, and Dr. George Onuorah, Director of Media and Projects, of the When In Need (WIN) Foundation they explained the challenges and joy derived from seeing the  smiles on the less-privileged in Nigeria during WIN's April 2017 Mission of Mercy.
From April 27 – 29, 2017, the When In Need Foundation made a Mission of Mercy (MOM) to Ideato Imo state Nigeria. This particular medical mission was inspired by a letter received from a community in Ideato South in Imo State Nigeria. Ideato south has an estimated population of 550,000. Our investigation revealed that this community has been greatly deprived of accessible healthcare, general sustainable development, children's education and women/youth empowerment. This deplorable state of healthcare has claimed the lives of many in this community.
The April mission was supported by a team of family physicians, ophthalmologists, pharmacists, nurses and several other public health professionals.  During the mission, attended to over 6,000 adults and children. Free services were performed including physical and ophthalmic examinations; provision of education and treatments for multiple ailments including hypertension, diabetes, cholera, malaria and typhoid fever; provision of  free reading and distance glasses for at least 4,500 people; and offered preventative health education to reduce the prevalence of communicable diseases.
Read this article to learn more about our Mission of Mercy.
How we touched the lives of the needy in Nigeria-WIN
---
On Friday, May 12th at 10AM, State Senator James Sanders Jr. (D-Rochdale Village, Far Rockaway) will host a press conference to discuss his recent trip with When in Need Foundation and our President & CEO Dr.
Chetachi Ecton
to the country of Nigeria on a medical Mission of Mercy.
Our team of 30 doctors provided medicines to combat illnesses such as malaria, typhoid and high blood pressure. In addition to trying to improve health, Dr. Ecton and Senator Sanders met with Nigerian leaders to discuss how to strengthen relations between the two countries, even through Nigeria is already an ally of the United States.
Senator Sanders also viewed the visit as a time for personal growth and development regarding other cultures and felt warmly adopted by the Nigerian people. He was even given the title of chief by four kings there. 
Senator Sanders was proud to work with the When In Need Foundation on the Nigerian mission. WIN provides grants for students and young professionals to continue their education. They support schools, orphanages and various hostels that assist the less fortunate. WIN also organizes health and education fairs. 
At the upcoming press conference, Sanders will provide an informational update to community members in the 10th Senatorial District on the current state of Nigeria and what supplies and resources are needed there and how we collectively can provide support.
Senator Sanders hopes to encourage Americans and Nigerian-Americans to help the beautiful African Nation and would like to work with representatives from the Consulate General of Nigeria in New York to accomplish this goal.
If you would like to join the press conference:
Who: State Senator James Sanders Jr., When in Need Foundation
What: Press Conference on Mission to Nigeria 
Where: St. Clement Pope Church (outside) 
141-11 123rd Avenue, South Ozone Park, NY 11436
(onsite parking)
When: Friday, May 12, 2017, 10:00 a.m. 
Why: To help the people of Nigeria and their family and friends living in the United States.
---